Bio Green offers seeding as part of our lawn restoration service
Seeding is another important lawn care task, yet many homeowners do not know it. After 3-4 years, grass plants will slow down their productive rates. Re-seeding compensates for that natural slowdown of the turfs reproduction.
When should you seed? The best time to seed a lawn in Ohio is between August 15 and September 30th. Of course, every season is different, and this is a guide. Lawns seeded later in the fall may fail because the seedling turf has insufficient growth to survive the winter.
Why not Spring? The biggest reason we stay away from Spring is not to impact your pre-emergent schedule for weed control. Spring seedings are more susceptible to heavy infestations of summer annual weeds. Infestations of these summer annual weeds are greatly reduced in successful early fall seedings, since a good density develops before the weed seeds germinate the following Spring.
Bio Green Ohio offers three different seeding services.
Over-seeding – The process is that seeds are dispersed on your lawn using a broadcast spreader. This process introduces new cultivars to help thicken your lawn. This is best done in conjunction with a core aeration allowing more seed to soil contact. Over-seeding is best done in the Spring or Fall if the homeowner can adequately water.
Dormant seeding – Dormant seeding is similar to overseeding, but it is done in late fall/winter when soil temperatures stay below germination activity(usually December). This process uses the freezing, thawing, and snow cover to work its way into the soil. The seeds will germinate in early spring when soil temperatures rise above germination temperatures. This is recommended for the busy homeowner who does not have the time to adequately water their lawn.
Dormant Seeding
Seeding is another important lawn care task, yet many homeowners do not know it. After 3-4 years, grass plants will slow down their productive rates. Re-seeding compensates for that natural slowdown of the turfs reproduction.
Dormant seeding is broadcasting seed over the targeted area when the soil temperatures will not go above germination levels (usually December). It uses the freezing, thawing and snow cover of the ground to pull the seeds into the soil so they will be available and ready when spring temperatures rise above germination levels. Spring also gives us enough rain so watering is at a minimum.
We offer this service for those who do not have the time to water their new seedlings as much as they need when starting out or who have missed the window for fall seeding.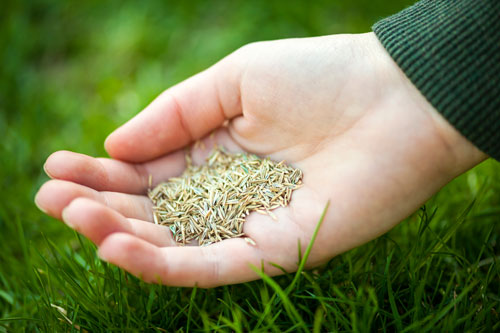 Lawn Care Services
QUICK CONNECT
Why Choose Bio Green Ohio?
Family Owned Local Business
Our Commitment To Customer Service
Environmentally-Friendly Fertilizer That Performs
Our Fertilizer Feeds The Soil Food Web
Safe For Waterways
Referral Discount
24/7 Secure Customer Portal
Resource For Customers
Licensed And Insured
Trained/Certified Technicians
Contact Us, Or Request a Quote
If you are interested in our service and would like a free quote, or you would simply like to inquire more information about our services please fill out the short form below and we will get in touch with you soon. Give us a call at (614) 764-2260.
"*" indicates required fields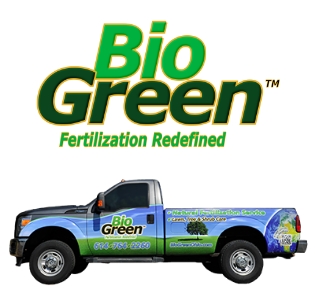 Bio Green Ohio Service Reviews
Lawn Seeding in Columbus, Ohio
Average rating: 11 reviews
Sep 27, 2021
Customer service is top-notch! They are quick to respond and take action. They use products I feel good about using and are very knowledgeable. They use the same care with my referrals.
Sep 27, 2021
Biogreen has done a great job on our lawn! We have been thrilled with the service they provide, and it's nice to know that their product is safe for kids and pets.
Sep 27, 2021
So far Bio Green has lived up to it's billing. We're not sure our yard has ever looked as good as it does right now. With two dogs it was important to us to find a company who used natural fertilization. We are very happy with our decision to use Bio Green.
Sep 27, 2021
Dave and Lori are truly the best! I wasn't seeing results doing my own fertilizing, not to mention all of the weeds and I started to explore alternative options. When I found out that the stuff they use is all natural and safe for my furry buddy I was sold. They were out at my house within days of my request and overnight it seemed that all of the weeds had vanished. My favorite was the personalized note that Dave left on my invoice with some pointers. Very satisfied and strongly recommend!!
Sep 27, 2021
I contacted Bio Green 2 years ago after losing 20% of my lawn to fungus. Dave came out and assessed my lawn and offered his advice. After 2 years and with Bio Green my lawn looks better than it ever has. The other HUGE benefit (that I didn't realize at the time) their process doesn't use harmful chemicals that can hurt your children and pets. I won't trust my lawn to anyone else.
Sep 27, 2021
We had lots of dandelions and other weeds that decided to pop up as everything came in to bloom. Lori went out to the house to give an estimate same day I requested, and scheduled service shortly thereafter. Lawn looks great, and I'm happy that I am not using toxic chemicals for treatment. Thanks!!
Sep 27, 2021
I am starting my fourth or fifth season with Bio Green Ohio and have been pleased since day one as I continue to be today. Prior to this, I had used the two well know companies here in Columbus. I was dissatisfied with them both for lack of attention and nonexistent responses when I called or sent a letter. I felt that I was only a number to them and they demonstrated zero interest in working with me other than to have their telemarketers call on a regular basis to up sell another service. So, when I decided to hire another company, I did a lot of research and Bio Green had very strong reviews and is why I chose to go with them. From the start, it was obvious they cared and were interested in what my needs and concerns are. It also is very refreshing that when the Technician is out, he will talk with you if you have any questions rather than the other folks who seem to run a marathon to get in and out as quickly as possible. My lawn has some challenges that Bio Green inherited and has been working hard to remedy. The great thing is that whenever I reach out, the response is immediate and Dave has made several trips to examine and study the issues at hand to determine the best course of action. I cannot overstate how happy I am and would highly recommend Bio Green Ohio to anyone who is looking to replace their current company or new to hiring a Lawn Care Service.
Sep 27, 2021
David is awesome! Totally reliable and committed to doing an outstanding job for his clients! His products are super effective and eco-friendly. I have used 3 or 4 lawn services over the last 14 years, and after 3 applications by David, my lawn now looks better than it ever has!
Sep 27, 2021
Biogreen has been very prompt and professional. Actually educate you on the how and why of caring for your lawn. Noticeable improvement in lawn quality after one season
Sep 27, 2021
Convenient, reasonably priced, staff is very helpful. Our lawn looks better than it has in years.