Bagworms in Ohio: A Threat to Trees and Landscapes
May 26, 2023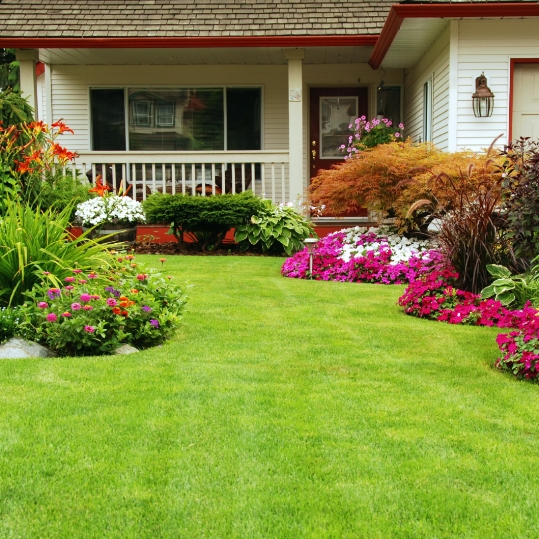 When Should I Fertilize My Lawn in Ohio?
June 22, 2023
When is the Best Time to Plant Grass in Ohio?
Spring and Fall are the best times to plant grass in Ohio.
Understanding Ohio's Climate and Grass Types
Ohio's diverse climate plays a crucial role in determining the best time to plant grass. The state experiences a mix of continental and humid subtropical climates, resulting in varying temperatures and precipitation patterns across different regions. To make an informed decision on the ideal timing for grass planting, it's essential to consider Ohio's climate and the specific grass types suitable for the region.
Types of Grasses Suitable for Ohio
Ohio's climate is conducive to a range of cool-season grasses, including Kentucky bluegrass, perennial ryegrass, fine fescue, and tall fescue. These grasses thrive in Ohio's transitional climate, with the ability to withstand the cold winters and adapt to the hot summers. Understanding the characteristics and growth habits of each grass type will help you select the most suitable option for your lawn.
Kentucky Bluegrass: Known for its rich green color and dense growth, Kentucky bluegrass is a popular choice for Ohio lawns. It establishes best in the fall and early spring when soil temperatures are cool and moisture is readily available.
Perennial Ryegrass: Perennial ryegrass is known for its quick germination and establishment, making it an excellent choice for overseeding. It performs best when planted in early fall or early spring.
Fine Fescue: Fine fescue, including creeping red fescue and chewings fescue, is well-suited for shady areas and low-maintenance lawns. It can be planted in early fall or early spring.
Tall Fescue: Tall fescue is a durable grass type that adapts well to a variety of soil conditions. It can be planted in early fall or early spring, but fall planting is generally preferred.
Factors to Consider for Timing Grass Planting
Soil Temperature: Soil temperature plays a critical role in seed germination and establishment. For cool-season grasses, the ideal soil temperature for germination ranges between 50°F and 65°F. Monitoring soil temperature using a soil thermometer can help determine the optimal time for planting.

Frost Dates: Ohio experiences a last spring frost date and an average first fall frost date. Considering these dates can guide you in selecting the best time to plant grass. Typically, planting grass several weeks before the average first fall frost allows the seedlings to establish before winter dormancy.

Seasonal Moisture and Rainfall: Adequate moisture is essential for successful grass establishment. Planting during seasons with higher rainfall or when irrigation is readily available increases the chances of successful germination and growth.

Grass Growth Rates: Different grass types have varying growth rates. Kentucky bluegrass, for example, establishes more slowly compared to perennial ryegrass. Understanding the growth rates of the grasses you choose will help you plan accordingly.
Best Time to Plant Grass in Ohio
Fall Planting (Late August to October):

Pros: Fall is widely regarded as the best time to plant grass in Ohio. The cooler temperatures and higher rainfall create optimal conditions for seed germination and establishment. The grass has time to develop a strong root system before winter dormancy.
Cons: Delayed planting in the fall may result in inadequate establishment before the onset of winter. Additionally, competition from leaves and debris falling from trees may hinder grass growth.

Spring Planting (March to May):

Pros: Early spring offers favorable soil temperatures and increased moisture, promoting successful germination and growth. Spring planting allows the grass to establish before the hot summer months.
Cons: Unpredictable weather patterns and potential weed competition can pose challenges for spring-planted grass. Soil moisture must be carefully managed, especially during dry periods.
Tips for Successful Grass Planting in Ohio
Prepare the Soil: Before planting, ensure the soil is well-prepared by removing debris, weeds, and rocks. Loosen the topsoil to promote proper root development.

Select High-Quality Seed: Choose a high-quality grass seed blend suitable for Ohio's climate and your specific lawn needs. Consider factors such as shade tolerance, traffic resistance, and maintenance requirements.

Follow Seed Sowing Guidelines: Follow the recommended seeding rates and spread the seed evenly across the area. Consider using a seed spreader for more uniform coverage.

Provide Adequate Water: Keep the newly planted area consistently moist to support seed germination and early growth. Light and frequent watering is crucial until the grass becomes established.

Implement Proper Lawn Care Practices: Once the grass has established, follow proper lawn care practices, including regular mowing, fertilization, and weed control, to maintain a healthy and vibrant lawn.
Concluding the Best Time To Plant Grass Seed in Ohio
Determining the best time to plant grass in Ohio involves considering various factors such as climate, grass types, soil temperature, and precipitation patterns. While fall is generally the preferred time for grass planting due to favorable conditions for germination and establishment, early spring also offers opportunities for successful growth. By understanding the specific requirements of your chosen grass type and following proper planting and maintenance practices, you can achieve a lush, vibrant lawn in Ohio.
Remember to consult with local experts or professional landscapers to ensure the best results for your specific lawn conditions. Get started on transforming your Ohio lawn today and enjoy the beauty and benefits of a healthy, well-established grassy landscape.
Note: The information provided in this blog post is based on general knowledge and research. It is always recommended to consult with local horticultural experts and professionals for specific advice and guidance related to your lawn and grass planting in Ohio.
Sources:
Ohio State University Extension, "Lawn Establishment, Renovation and Overseeding"
University of Kentucky College of Agriculture, Food and Environment, "Lawn Establishment"
University of Massachusetts Amherst Center for Agriculture, Food, and the Environment, "Planting a Lawn from Seed"
Penn State Extension, "Planting a Lawn from Seed"